How to Reconstitute Dehydrated Mushrooms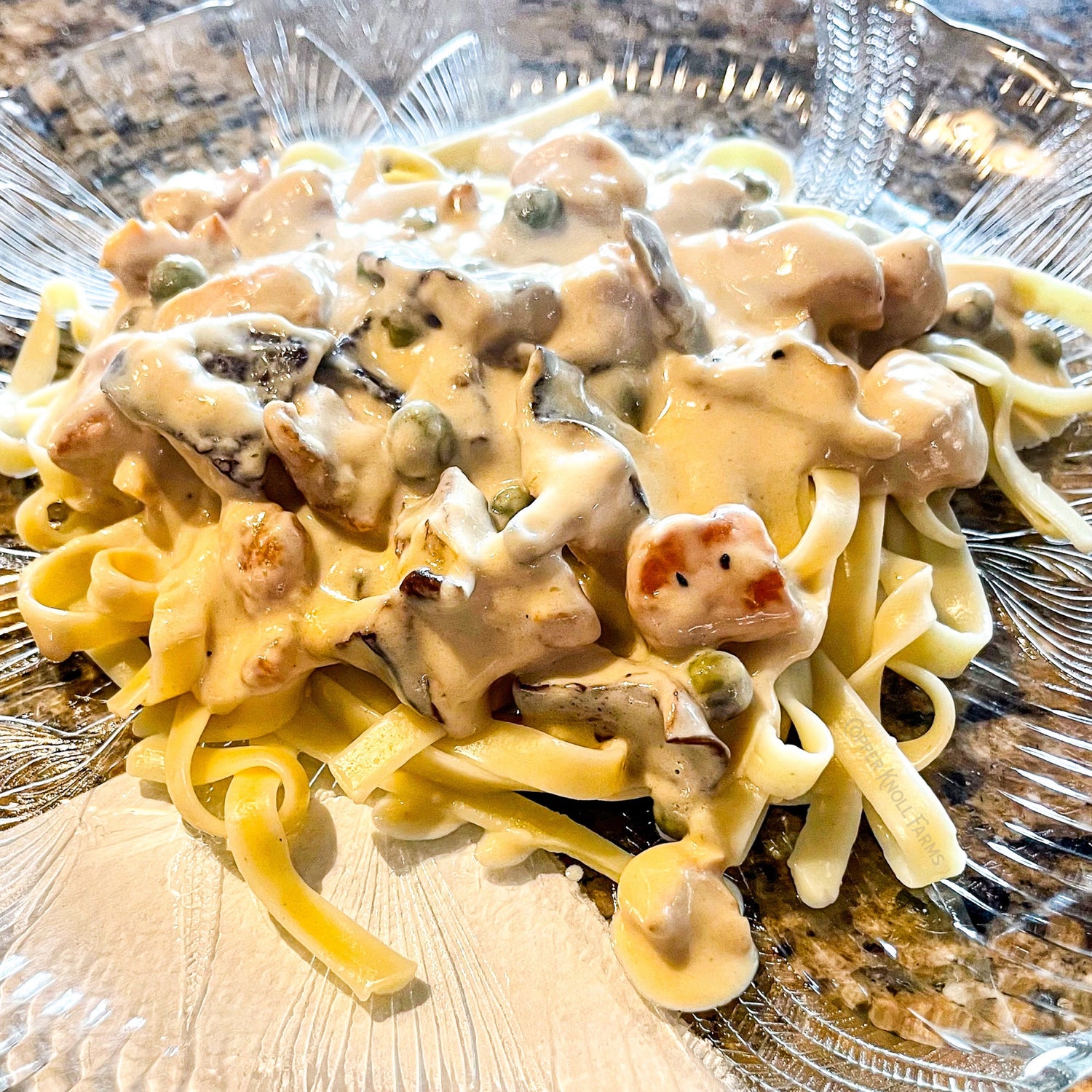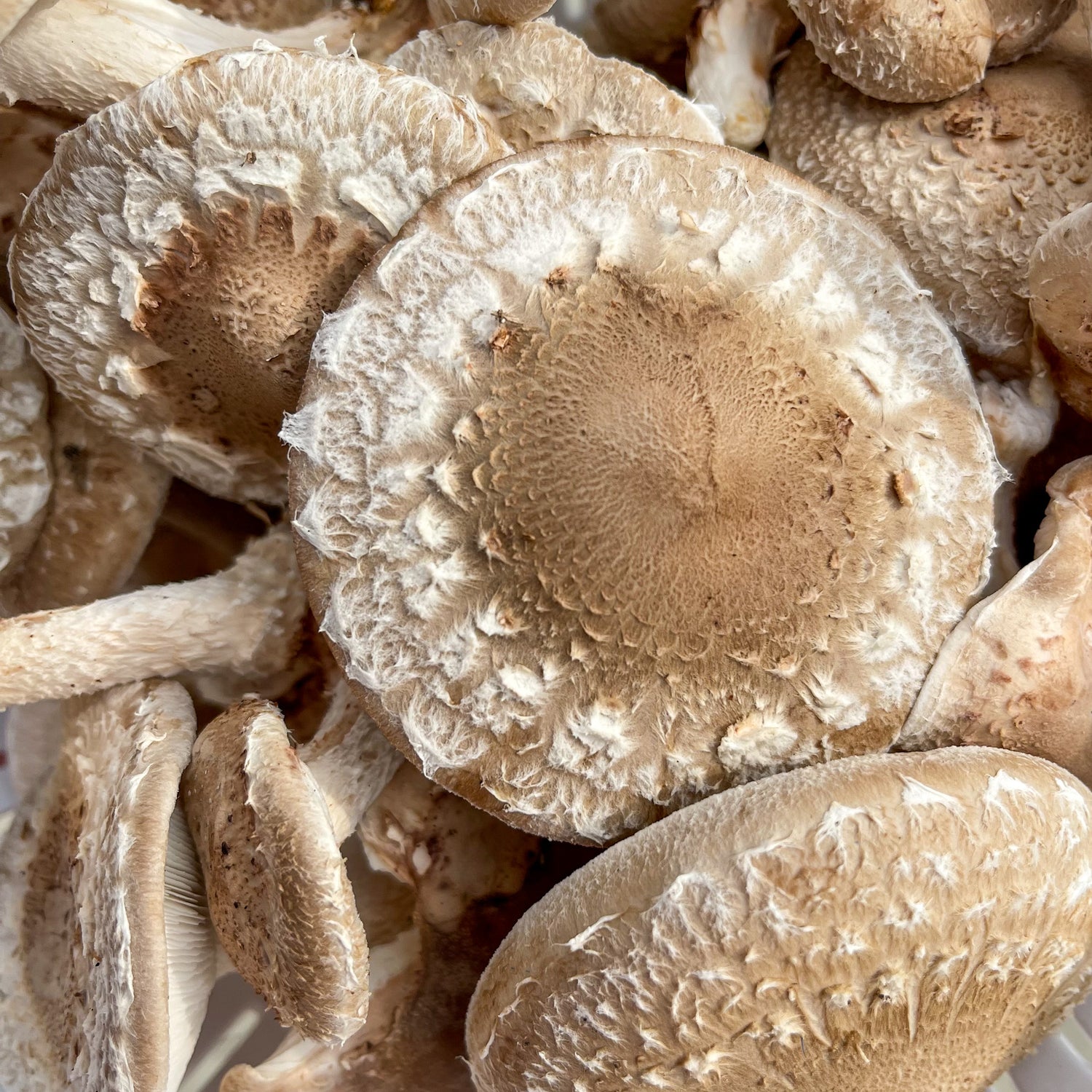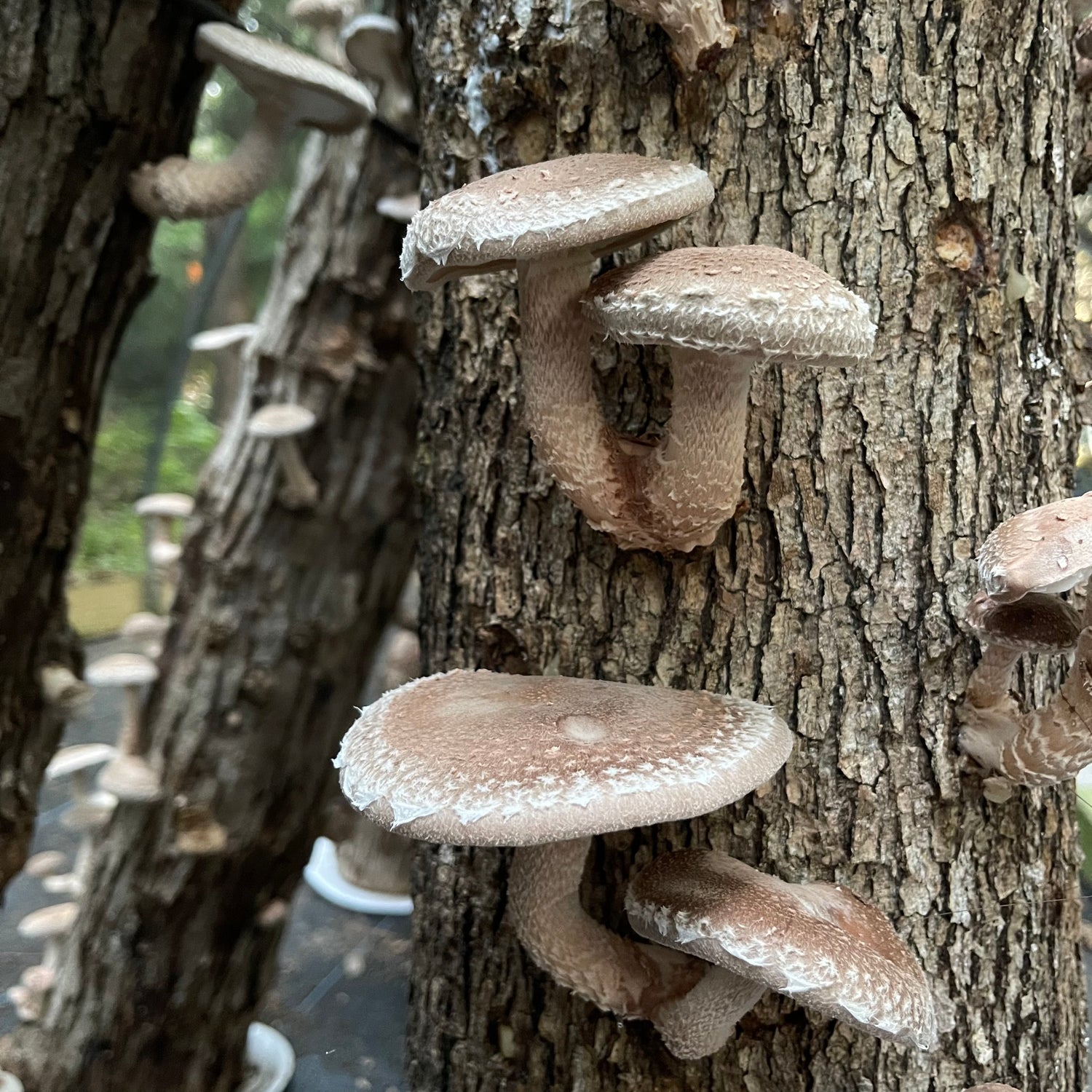 Chicken Alfredo with Sautéed Log Grown Shiitake Mushrooms
A great meal that you can make any day of the week for a delicious and hearty dinner
Get the Recipe
Shiitake Mushroom Sauce with Marsala
4T. Butter
2T. minched shallots
4 oz. Shiitake Mushrooms
1/2 cup Marsala wine
1/2 cup Chicken Stock
3/4 cup whipping cream

In a large skillet saute the shallots in butter for 1 minute. Add the Shiitake mushrooms and cook over medium heat for two minutes. Remove mushrooms from the pan and set aside. Add the Marsala wine to the pan and cook over high heat for 1 minute. Add the chicken stock and cook until it is reduced by half. Add the cream and cook over high heat for 3 minutes or until creamy. Return the mushrooms to the pan, salt and pepper to taste. Serve over meat, rice, vegetables or pasta. Serves 4.
Shiitake Mushroom & Cheese Frittata
8 ounces fresh shiitake mushrooms, caps cut into 1/4-inch slices. Save stems for soup stock.
1 small onion (about 6 ounces) halved and cut into 1/4-inch-thick slices
1 1/2 teaspoons fresh thyme
2 tablespoons olive oil
Coarse salt
10 large eggs
1/2 cup ricotta cheese
1/4 teaspoon freshly ground pepper
Preheat oven to 350 degrees. Heat oil in a 9- or 10-inch ovenproof nonstick skillet over medium heat until hot but not smoking. Add mushrooms, onion, and thyme; cook, stirring, until mushrooms and onion are golden brown, about 10 minutes. Stir in 1/2 teaspoon salt; remove skillet from heat.
Whisk eggs in a large bowl until frothy. Stir in the ricotta, 1 teaspoon salt, and pepper to taste. Place reserved skillet over medium heat. Immediately pour in egg mixture, and lightly stir to distribute mushrooms and onion evenly. Reduce heat to medium-low; cook 2 minutes, drawing cooked egg away from sides with a rubber spatula to let uncooked egg flow underneath. Cook until just starting to set, about 2 minutes more.
Transfer skillet to oven. Bake until frittata is just set and top is pale golden, 10 to 12 minutes. Serve frittata in skillet, or slide onto a serving platter.
Stuffed Shiitake
1 pound Shiittake mushrooms
1 cup chopped onion
3/4 tsp. thyme
1/4 cup diced ham
1 T. dry sherry
1.5 cup heavy cream
Parmesan cheese
Preheat oven to 375. Sort 12 large Shiitake caps, brush gills with butter, season with salt and pepper to taste and set aside. Chop remaining mushrooms, including tender stems. Melt butter, add onion, ham, and thyme. Add chopped Shiitake and Sherry. Cover and cook on high for 5 minutes. Spoon mixture into Shiitake caps and sprinkle with Parmesan cheese. Bake on top rack of oven for 15-20 minutes.
Enjoyed our Mushrooms?
Write a Review
If you enjoyed our log grown Shiitake Mushrooms, please write a review on the product page to let us know. We would greatly appreciate it and will send a special coupon after it is submitted for your next order.
Click the button below and select "Write a Review" under Customer Reviews.
Submit a review